not a common plant oil, vetiver is becoming more popular with the need to calm and revive the mind. Its aroma is a heavy, earthy fragrance, which is reminiscent of patchouli with a touch of lemon. It is believed to be very
grounding
,
calming
and stabilizing. Vetiver has been used in India for a very long time it's known as Khus-khus oil.
Haiti has become the leading producer of Vetiver essential oil in the world. The high quality vetiver oil produced in Haiti is a light, golden amber, and its fragrance is sweet, smooth and earthy.
Vetiver
is an aromatic grass that grows up to a height of six feet, Essential Oil is extracted from it's roots. The main chemical components are benzoic acid,, furfurol, b-vetivone, vetivene, vetivenyl vetivenate, vetiverol.
Vetiver
oil has a calming and soothing effect on the nervous system and is helpful for muscular aches and pains, as well as having a positive effect on hormonal imbalance as well as relieving insomnia.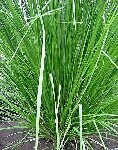 1. Vetiver oil is know as a cicatrisant, which means it heals scars by promoting regeneration of skin and tissue. It removes dark spots or signs of acne and chicken pox.
3. 3. Vetiver has been said to raise testosterone levels in the mind; as well as it also has gentle estrogen-like effect. It strengthens the female reproductive system and balances hormones.
4. Vetiver has been used in the treatment of menstrual discomforts as fatigue, bloating, skin ailments , emotional fluctuations, breast tenderness and cramps. Since Vetiver is as a sedative, it aids in the treatment of PMS.
5. Soothes Anxiety and nervousness by calming the mind.
6. Repels termites, mosquitos, and head lice.
* Add 5–10 drops of vetiver oil to bath water; it helps with relaxation and insomnia. One combination that I use all the time is vetiver & lavender.
* Diffuse 4–6 drops of vetiver oil in your mist diffusers or I like to place 1–2 drops on my wrists, nape of neck and bottom of feet.
* As a massage oil by mix 4-6 drops of vetiver oil with equal parts of a carrier oil.
Vetiver blends well with bergamot oil, cedarwood essential oil, geranium oil, ginger essential oil, jasmine oil, lavender essential oil, lemon oil, lemongrass essential oil, orange oil, patchouli essential oil, rose oil and sandalwood essential oil.
Precautions It is considered a safe oil and is non-toxic, non-irritant and non-sensitizing.